Being a total breakfast junkie, I just knew I had to pay a visit to
Eggs & Berries
—selected as one of the
5 best all-day breakfast joints
on
inSing
—despite it being located almost at the other end of Singapore.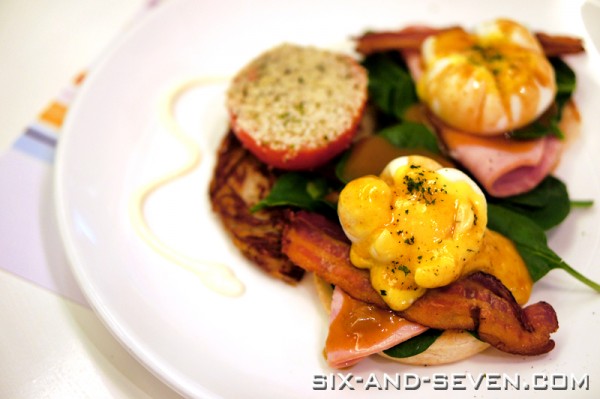 —
click to view image
The accompanying roadworks in the area gave me much frustration—and about half an hour's worth of detouring before I actually found the entrance to the carpark to
Changi City Point
—but all was forgiven when
Chef Lewis Ang
's
Eggs Benedict
($14.80) was served.
Brimming with liquid joy that almost seemed to flow upon command, the perfectly poached eggs were sat securely on its bed of crusty bacon, ham and toasted English muffins. The brown sauce bore an uncanny resemblance to the gravy atop
KFC
's side of mashed potato and was a touch too salty on its own, but pleasantly accentuates and pulls the dish together as a whole.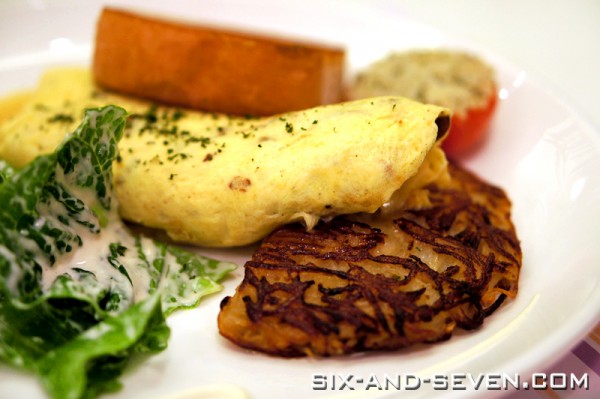 —
click to view image
Some may have a field day knowing that a total of three eggs go into the omelettes here, but I just had to order the
Bacon, onion & mushroom omelette
($13.80). It looked seemingly too well done at first glance, but was wet and slightly runny on the inside. The bacon—probably fried or grilled beforehand—added a savoury, slightly harder edge that plays of the sweet, soft cooked onions and mushrooms. An added dash of emmental or mozzarella ($1.50) also does well to lend a creamy touch to the dish, though not essential to the dish's success.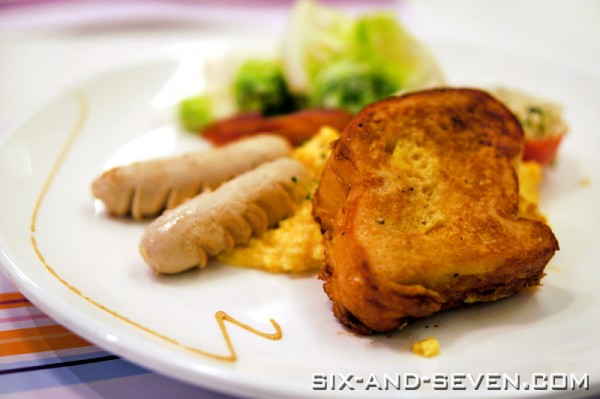 —
click to view image
Served with scrambled eggs, sausages, bacon and a side of small pancakes, the chunky slice of
Sweet brioche French toast
going at a pricey $15.50 made me feel like I've been transported to
Wild Honey
. That being said, the toast was wonderfully executed to a slightly crisp exterior, and a fluffy, delightfully egg-y centre.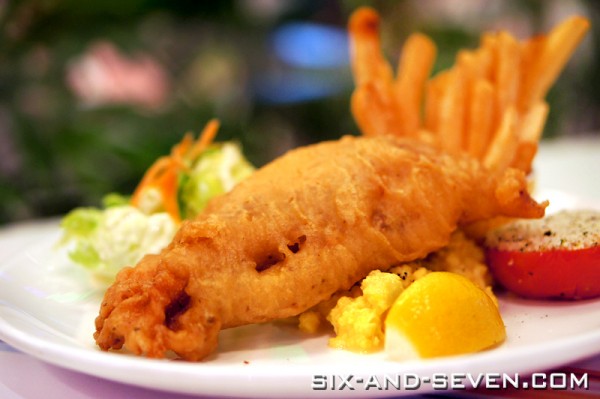 —
click to view image
Besides breakfast, the bright and airy restaurant also serves up plenty of other dishes—like pasta, baked rice and other mains. The
Fish & chips with scrambled eggs
($15.50) was certainly differently; fried to a hard—and I would even dare say—crunchy finish, it was indeed interesting and memorable, though I cannot say the same for the other fish dishes I tried.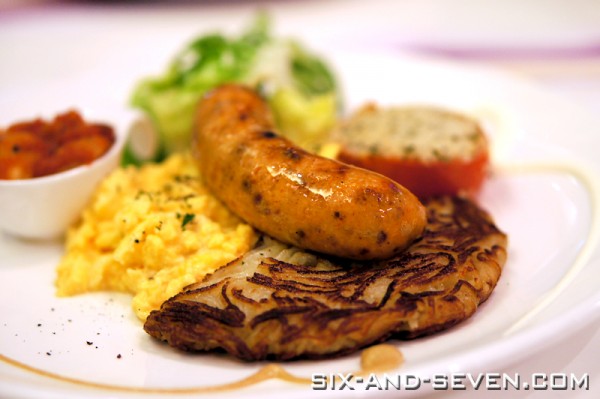 —
click to view image
The homemade
Salmon with herbs sausage & eggs
($13.90)—probably the chef's idea of a westernized fish 'otah'—left a weird, powdery coating on the tongue and was a tad too fishy for my liking. The sausage skin was also a bit too chewy and required way much effort to get through even small piece.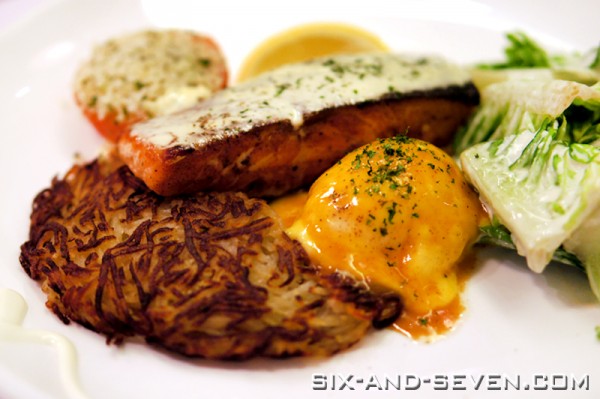 —
click to view image
The "sinful"
Pink fish steak
($19.90) "marinated with homemade spices or just plain seasoning"—I quote from their menu—was unfortunately overcooked, and possessed a tough texture that could not even be salvaged with the pairing of a beautifully poached egg.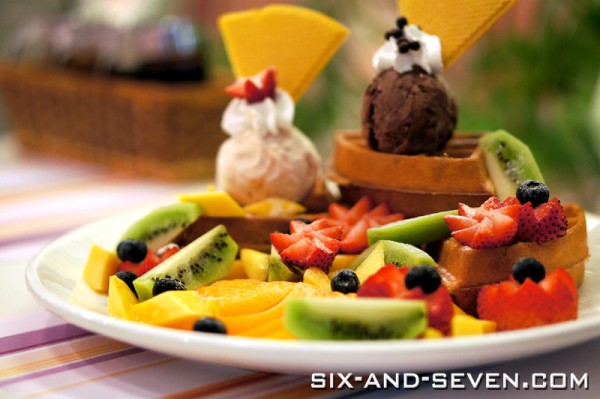 —
click to view image
Those with a big appetite for desserts will be glad to know that they are sure to get their fill here. The
Over the rainbow
($13.80) waffle dessert spread may not possess seven colours of the rainbow, but makes it up with a dusting of 'snow' and a scoop of
Ben & Jerry's
(additional at $4.20/scoop). Fresh as they are, the kiwi fruits and strawberries were sadly not ripe enough for that oomph of sweetness.
—
click to view image
The dishes here at
Eggs & Berries
may not be mind-blowing, but diners can definitely look forward to generous portions and consistency. A few things can be improved though: the scrambled eggs, while moist, were a touch bland and could do with more seasoning; the hilarious menu copy that describes their pancakes as "so hotty", deems salmon steak sinful, and serves up undercooked rosti as their 'homemade hashbrowns' unquestionably needs a few tweaks.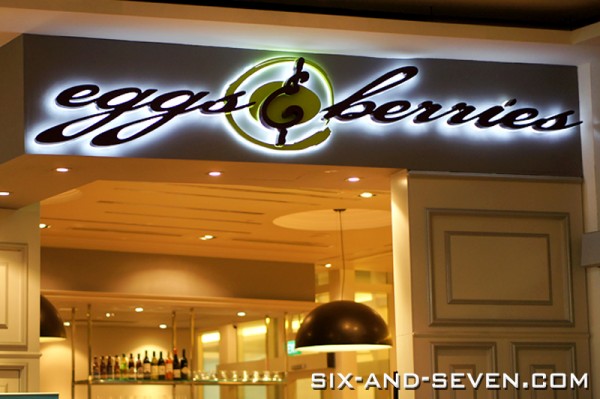 Eggs & Berries Location & Hours.
Click to read original article
Tweet
only our member can post comment.