It could be the décor of the place—grand, Shanghai Tang movie-esque yet borderline tacky—or the opulent chandeliers that spell old luxury, but I have yet to meet someone who doesn't feel strangely at home while at
Shangri-la Hotel Singapore
. Surrounded by lush verdure, the aptly named
Garden Wing
reopens to present not only the latest urban resort in town, but a new dining concept to fill the void that the now-defunct
BLU
has left behind—
Waterfall Café
.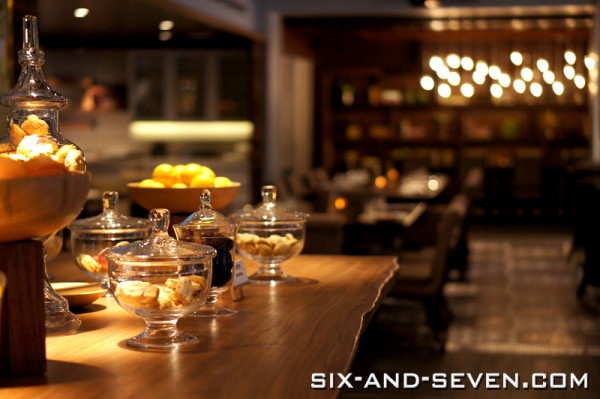 Both in line with the resort feel of the hotel wing, and the group's commitment to social responsibility and sustainability—the hotel group has already announced its move to phase out shark fin products, Bluefin tuna and Chilean sea bass in all its operated restaurants within the year—
Chef Stephane Cocu
also ensures that his Mediterranean-inspired menu uses only products sourced from sustainable origins, and are free from hormones, pesticides and antibiotics.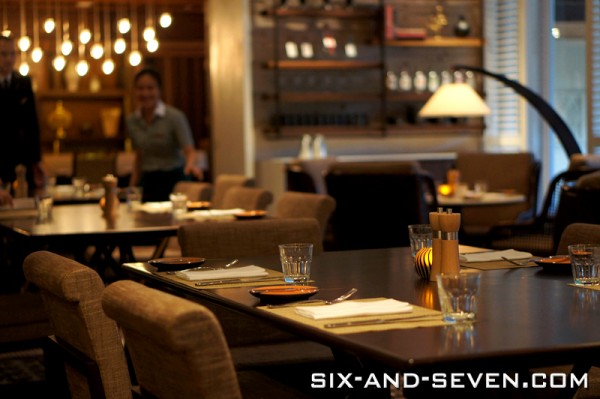 The alfresco area has a more laidback, beach resort touch, looking out to the pool, but it is the indoor seating—with its warm colours and a slight colonial touch—that really drew me in. The restaurant also boasts a small bakery area, with some spices and sauces up for sale, as well as a mini-open kitchen where you can view the chef prepare and plate desserts.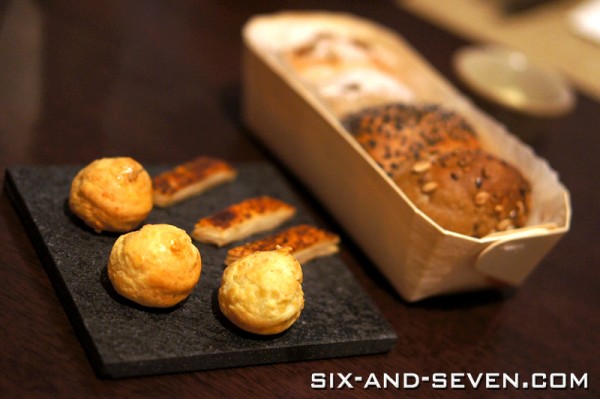 We started off the meal with a round of New Zealand organic sodas and complimentary bread. While it possessed that delightful effervescence that only glass-bottled sodas have, it probably caters more towards a mature palate, as it wasn't too sweet or heavily flavoured. Of the bread selection, I particularly fancied the short breadstick—unapologetically fried to a flaky, spiced finish.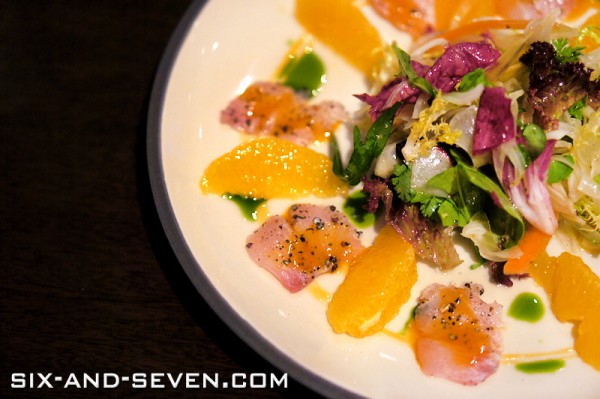 Just as the background music transitioned to a jazz CD, the friendly staff laid out a selection of vibrant starters. Just as how the
Seabass carpaccio
($16) was light and appetising with a zingy orange salad, the
Watermelon & tomato salad
($24 with prawns/$16 without) was both moist and crunchy at the same time.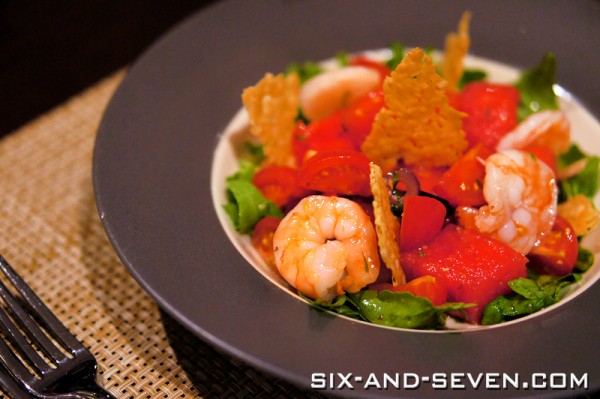 It seemed almost like they'd illegally plumped the watermelons up for these were the juiciest chunks of watermelon I've enjoyed thus far. Beyond the wetness of the dish,
Chef Stephane
cleverly rounds the sweetness of the fruits and prawns off with a touch of mint and arugula.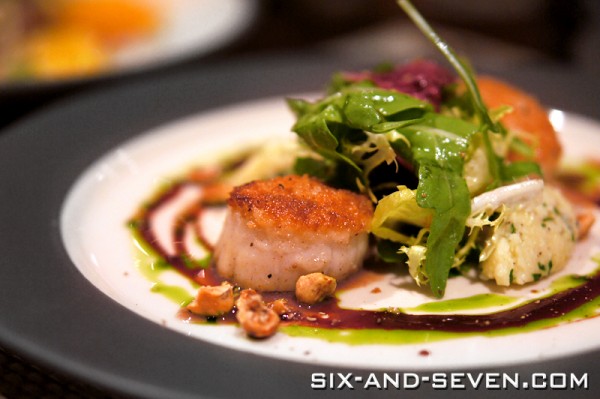 With a name like
Seared sea scallops in hazelnut crust
($24), it was only obvious that we just had to order. It may seem pricey for two fleshy scallops, but the excellently crunchy hazelnut crust on the succulent, perfectly done scallops changes that perception on first bite. The accompanying drizzle of port wine jus is the cherry atop the dish, adding another layer of taste to the fresh flavours.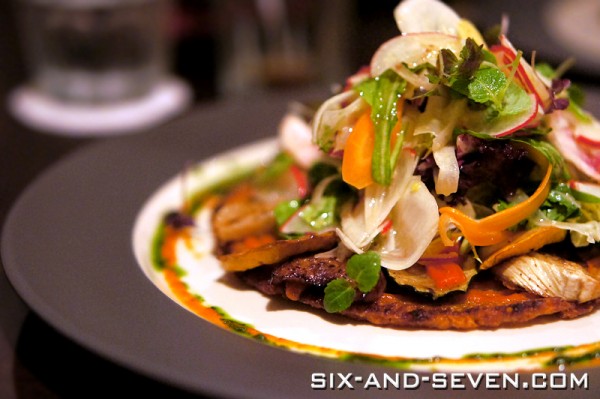 I definitely do not see eye-to-eye with the US Congress on the how pizza can be considered a vegetable—never mind that tomatoes aren't even vegetables, but commercial tomato sauce has unbelievable amounts of sugar—that is unless they're talking about
The Socca
($21/$25 with chorizo) by mistake.
Originating in Genoa, the crisp chickpea flour pancake is topped with both roasted vegetables and a fresh herb salad, as well as a dash of pesto and spicy tomato coulis. While the hodgepodge of ingredients provided varied textures and taste, as a meat-lover I found it too green for my palate, and would definitely recommend sharing it—as what we did at dinner.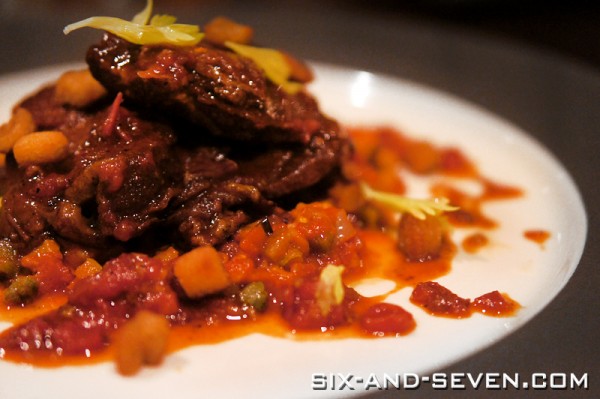 The
Slow baked veal cheek
($29) looked like almost a classier interpretation of the familiar
Sweet & sour pork
dish, but the similarities go only surface deep. In place of crunchy fried cubed pork,
Waterfall Café
serves up oh-so tender veal cheek, and the sauce decidedly more robust with capers and sage for a kick.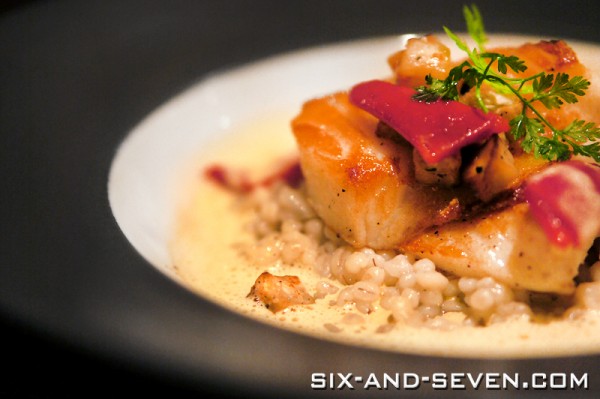 It's not first time I've had 'risotto' that wasn't done using rice—
The Halia
serves up a soy bean sprout version—but the
Chef Stephane
's
Atlantic Cod on Barley risotto
($38/Barley risotto itself $18) may just be my favourite variation just yet.
Creamy yet light, with a hint of curry spice from the Vadouvan emulsion, the broth pairs well with al dente barley beads. The fish is executed crisp on the outside, soft within, with a lighting season of pepper that allowed the natural freshness and flavours of the white meat to shine. Together, the risotto and fish is distinct yet complementary—a definite must-order.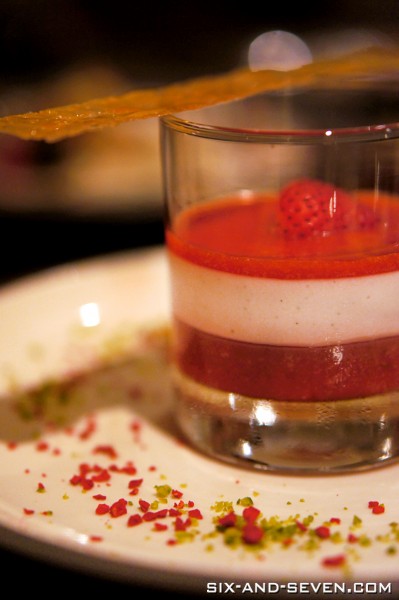 All good meals must come to an end, and from the 6 desserts I tried, I can safely say it will not be on a disappointing note here at
Waterfall Café
. There literally seems to be something for everyone; chocolate-lovers will be pleased with the rich, almost mousse-like
Flourless Valrhona chocolate cake ($14) paired with a Bourbon vanilla ice cream
; the
Coconut cream panna cotta
($8), with strawberry confit, will appeal to those with a sweet tooth; and if you want something more unusual, opt for the
Lychee soup with summer fruits
($10), with orange sherbet—an exotic mix of fruits presented in different textures.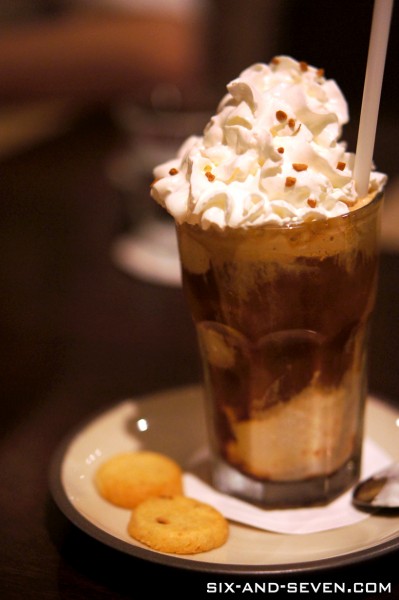 Those who like their caffeine can go for the
Coffee monster
($16)—a cross between a mocha and affogato, with a shot of hazelnut- and herb-flavoured liqueur—or if you've just finished crazy sets at the gym, perhaps the
Pure whey protein smoothie
($12).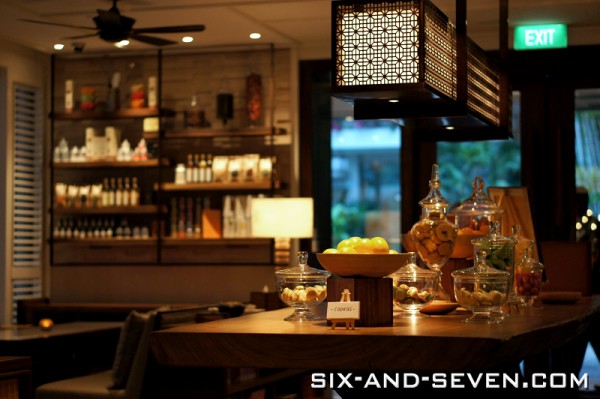 Besides featuring a high number of vegetarian options in their menu—they also serve breakfast and are working on a brunch menu—what is most surprising is how reasonably priced it is for such quality, healthy fare in an amazing locale. The ambiance is great for both a gathering of friends and family, or a quiet sanctuary for some alone time with a good book.
Waterfall Café

22 Orange Grove Road
Shangri-la Hotel Singapore
Garden Wing, Level 1
Singapore 258350
Tel: +65 62134138 |
Website
Operating hours:

Breakfast: 6.30am–11am
Snacks: 11am–12noon, 3pm–6pm
Lunch: 12noon–3pm
Dinner: 6pm–10.30pm (Mon–Sat)
Tweet
only our member can post comment.