With increasing statistics showing that the youths and young adults of today are eating out more, it's only obvious every F&B group wants a piece of this expanding market. As the Hokkien phrase "
Ai Pi Ai Qi
" goes,
Crystal Jade Culinary Concepts
launches a brand-new
C-Jade HK Café IN
concept to satiate those out for Hong Kong fare that is both premium and of value.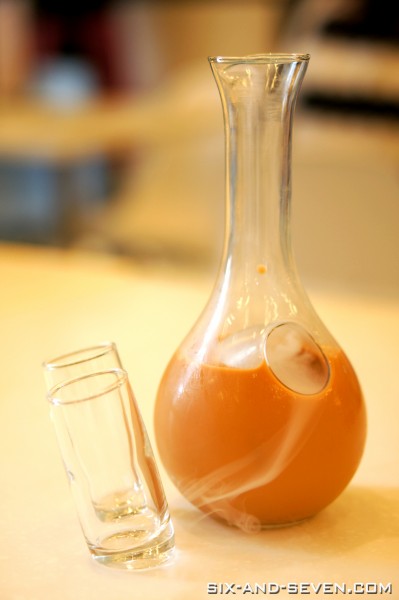 — click to enlarge image
As with any dignified
Cha Chan Teng
's (Hong Kong Cafés),
Chilled HK milk tea
($3.90) is a must-have on the menu. Working hard to maintain consistency with regular taste tests carried out through the day, the casual restaurant presents their smooth
Nai Cha
—possessing a good balance of tea fragrance and sweetness from evaporated mlik—in a special bottle with dry ice that eliminates the worry of one's drink getting diluted over time.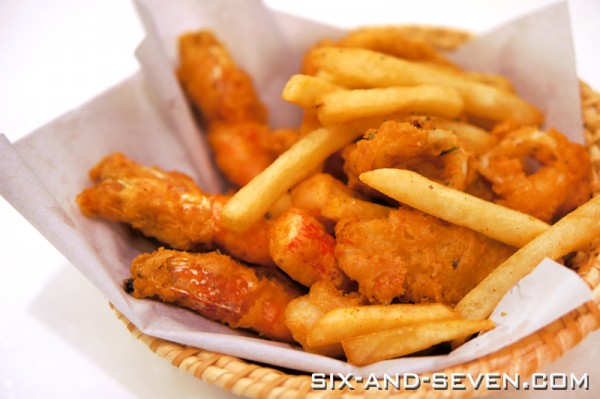 — click to enlarge image
Perfect for sharing, or as a sinful main, is the
Deep-fried seafood platter
($15.80). While it is more than twice the price of the
Crispy snack basket
($6.80 for spring rolls, chicken mid-wing, fried bean curd, calamari rings and French fries), I would recommend against the latter's lacklustre selection. The prawns could have been fried to a greater crisp, which would allow the shell to be eaten together with the meat, but the well executed fried fish—opening to reveal moist white flesh—makes up for it.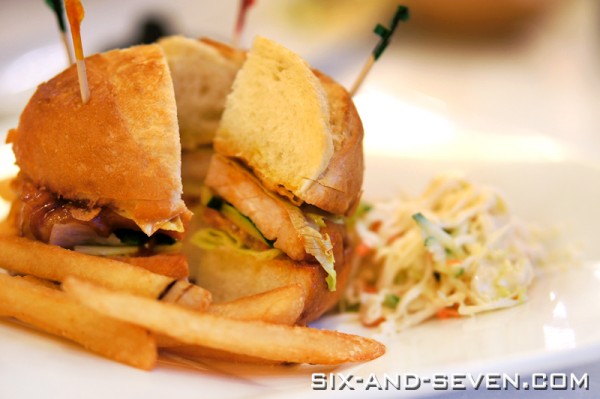 — click to enlarge image
Lauded as a popular snack in Macau, I found
C-Jade
's
crispy Macau pork chop bun
($4.80) to be too crisp an interpretation. Probably due to teething problems, as the restaurant had just opened when we visited, the bun was overdone and a tad too hard—it retained its structure even when knocked against the plate and with a fork, making it difficult to eat off the toothpick—though the tender pork chop does well to distract.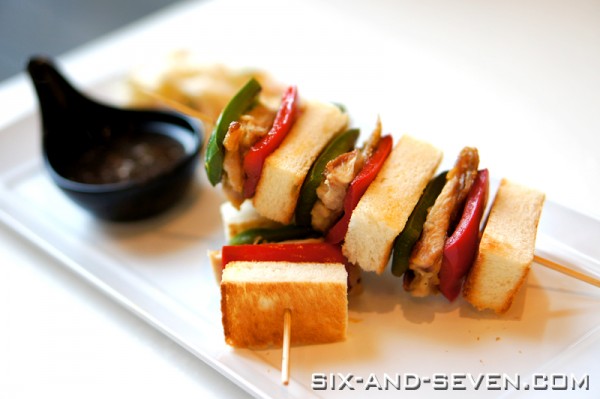 — click to enlarge image
For a healthier dish at the same price, I'd recommend the
Kushiyaki sandwich
($4.80). Literally bite-sized sandwiches on a skewer, the succulent chicken and nicely grilled peppers—whose sweetness is accentuated by the accompanying sauce—is both more convenient and palatable.
— click to enlarge image
I usually do not go for fried food, but the
Deep-fried spring chicken with fries & lemongrass
($8.80 for half, $16.80 for whole) is done extremely well—crisp on the outside, tender and flavourful on the inside—though the hint of lemongrass seems to have been lost in the batter.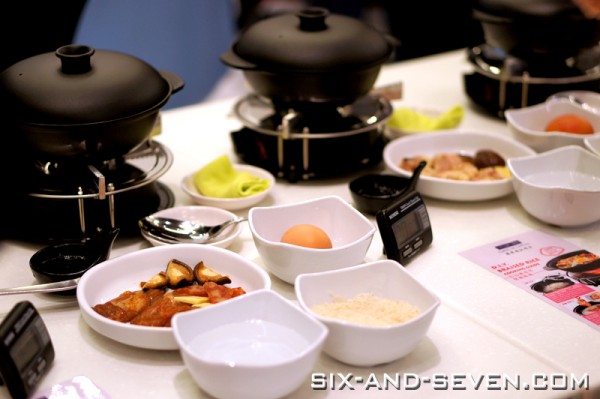 — click to enlarge image
Offering the bold option to allow diners to prepare their own meal—sans the setting up and cleaning after—the restaurant presents a fun and easy cooking set, along an instruction sheet with every set of the
DIY braised rice
($9.50-$9.80).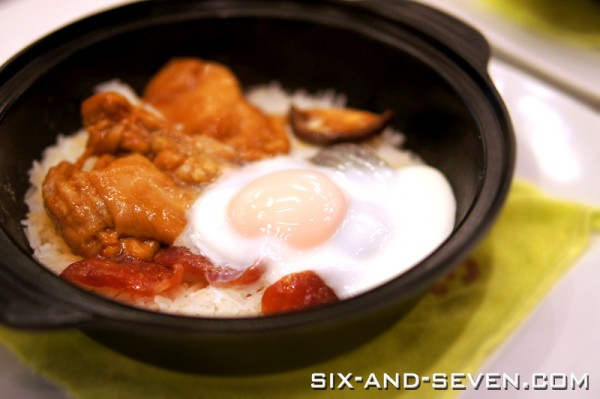 — click to enlarge image
Taking about 20-minutes to cook, our
Braised rice with chicken, mushroom, preserved sausage & egg
($9.50)—which was then stirred with their special dark soy sauce-sesame oil blend a la claypot rice—was surprisingly toothsome and not dry at all. I particularly enjoyed how the saltiness of the preserved sausage slices rounded up the dish nicely.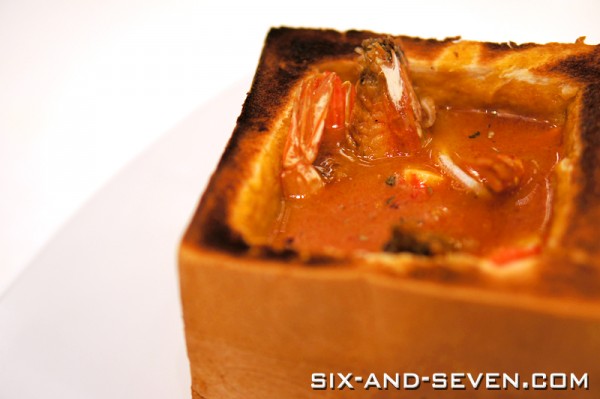 — click to enlarge image
While others favoured the highly personalizable and affordable
Hong Kong cart noodles
($4), I took an unexpected fancy to the
Baked square toast with assorted seafood
($8.80). Steeped in curry, the seafood bore a strong tinge of the spices and was a delight to eat. C-Jade also took note not to use too much coconut milk, so the result is a lighter curry that doesn't overwhelm.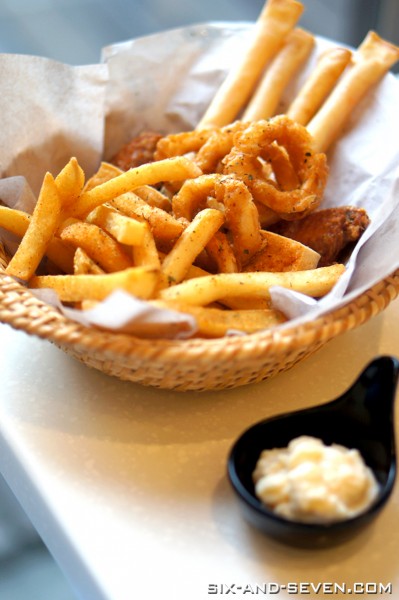 — click to enlarge image
While not best I've savoured from the
Crystal Jade
group,
C-Jade HK Café IN
's extremely affordable items, ranging from $2.80 to $16.80—and accompanying side of French fries for quite a number of dishes—is sure to be a hit with the younger crowd who are out to get more bang for their buck.
C-Jade HK Café IN
Bugis+, #04-05
201 Victoria Street
Singapore 188067
Tel: +65 65099698
Opening hours:
Daily: 11:00am to 10:30pm
Click to read original article
Tweet
only our member can post comment.