There seems to be a certain tension in the air just as we've entered the month of September. While
Green Day
fans are most likely to brush it off—and probably nap through the entire period—die-hard foodies will recognize that yet another 'Fastest Fingers First' battle is to ensue in the following weeks for the upcoming fifth edition of
Singapore Restaurant Week
.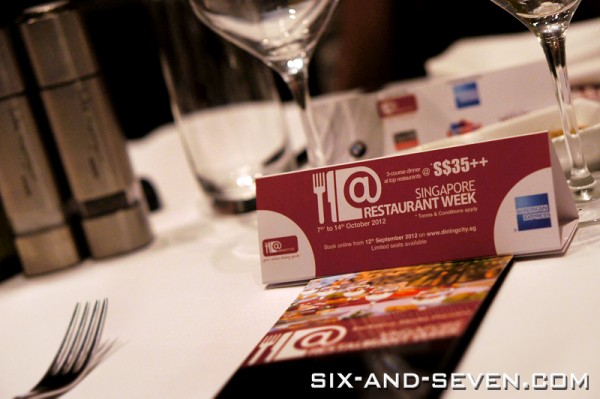 — click to enlarge image
Organised by
DiningCity.com
and presented by
American Express
, this week-long event happening
from 7th to 14th October 2012
, diners can look forward to enjoying exclusive and reasonably priced 3-course set menus from a record number of over 100 participating restaurants.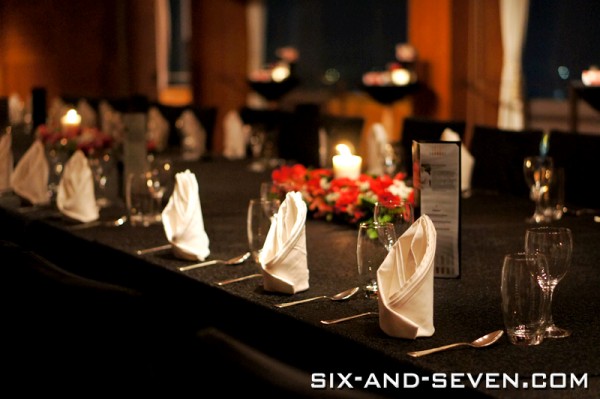 — click to enlarge image
Six&Seven
was thrilled to be part of a media food trail last week, where we were chauffeured around to different restaurants around the city—courtesy of event co-sponsor
BMW Asia
—for a gastronomic teaser of what to expect from the latest installment of this delectable series.
First course: One Rochester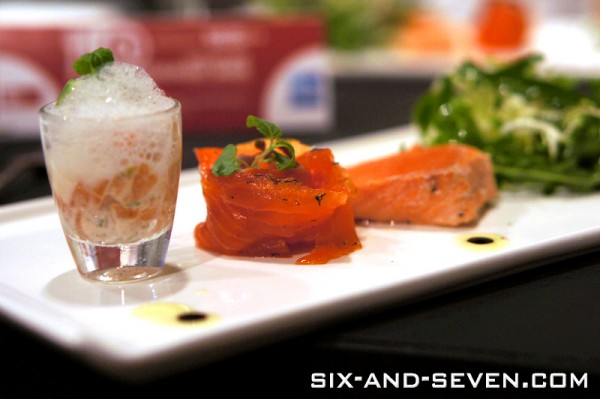 — click to enlarge image
While the rain from the previous week dampened not only our apparels and spirits, when we had to dine indoors, the evening kicked off with cocktails and catching up with familiar faces, a sure-fire way to lift the mood.
That being said,
Chef Sam Neoh
's
Three tastes of salmon
was a downer. Perhaps I have been overexposed to salmon dishes, but the starter wasn't half as exciting as the restaurant's amazing alfresco ambiance; though the salmon tartare was fared well, the cured salmon was flat and confit salmon not evenly and thoroughly cooked—as what I observed from fellow diners' plates. I have previously dined at this restaurant, and it can definitely present better.
One Rochester
1 Rochester
Park
Singapore 139212
Second course: Salt Grill & Sky Bar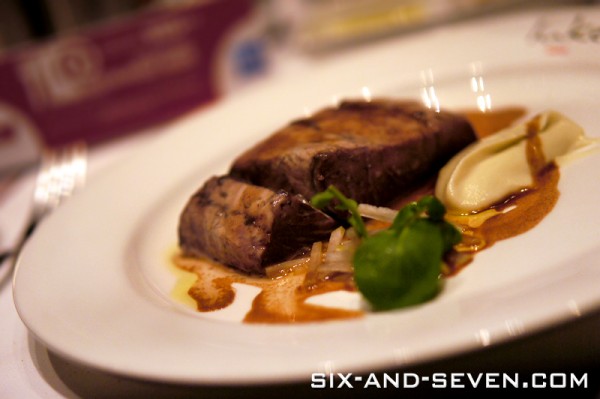 — click to enlarge image
Probably one of the few restaurants in Singapore that can offer a sky-high dining experience after a vigorous bout of shopping in Orchard,
Salt Grill
's new
Chef Shannon Binnie
proves he's worthy of the new executive chef position.
It can be easy to overcook seafood, but our main of
Red wine poached barramundi
was executed perfectly. The red wine had lent the fresh fish a subtle taste and depth that was further enhanced by an interesting pairing of red wine—again. The sweet shreds of nashi pear provided much delight, but it was the surprisingly light and airy, almost whipped cream-like cauliflower puree that got my attention.
Salt Grill & Sky Bar
2 Orchard Turn
Ion Orchard, Level 55
Singapore 238801
Third course: Equinox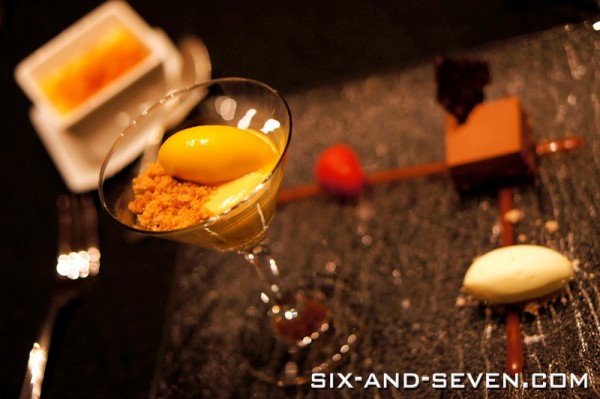 — click to enlarge image
Even with the many celebrity restaurants opening at Marina Bay Sands,
Equinox
remains a key destination restaurant of Singapore with its impressive views and modern cuisine.
Chef Lee Bennett
understands there is no better way to end a meal than with dessert—except perhaps a presentation of three at once.
The
Grand cru chocolate hazelnut crunch
looked a touch dry, but was moist and had a deep, roasted nutty flavour that was nicely blended into the chocolate. The Madagascan vanilla ice cream did well as a base to highlight the contrasting textures from crisp wafer and crunchy praline base.
Thick like a pudding and oh-so rich, the
Passionfruit banana cremeux
is the new comfort food—one spoonful and I was all ready to change out into my pajamas and settle on the sofa with sweet rom-coms. I am already missing how the complementing blend of sweetness from the two fruits, accentuated by the sour zing of the mango sorbet dance on my tongue.
While I was absolutely stuffed by the end of the night, and thought I couldn't eat another bite, the extremely light and smooth
Poire William caramel crème brulee
was only too easy to gulp down. Definitely something that those with a more petite appetite can consider if you're heading down to Equinox.
Equinox Restaurant
2 Stamford Road
Swissotel The Stamford, Level 69
Singapore 178882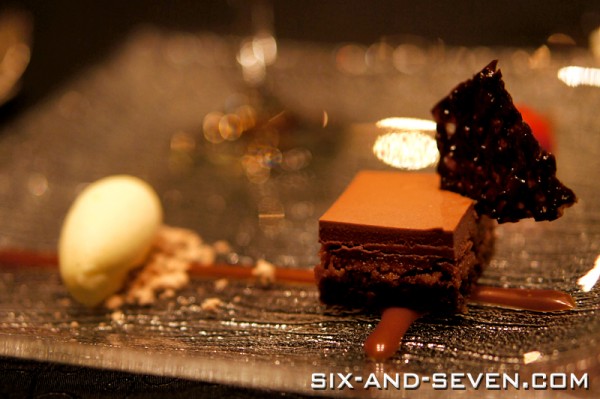 — click to enlarge image
Singapore Restaurant Week
runs from
7th to 14th October 2012
, and all participating restaurants will offer exclusive three-course menus for lunch and dinner, priced at $25+++ and $35+++ respectively. DiningCity Star-awarded restaurants charge a supplement of $15 for lunch and $20 for dinner.
Bookings can be made at
http://www.restaurantweek.sg
, and will open to:
— Public from
12th September 2012
—
American Express
cardmembers from
5th September 2012
. Applicable to all American Express Cards issued by American Express International, Inc. in Singapore (excluding American Express Cards issued by DBS and UOB)
— Subscribers of
DiningCity.com
newsletter will also enjoy advance booking from
10 September 2012
. To sign up for the newsletter, simply log on to
www.diningcity.com/singapore
Click to read original article
Tweet
only our member can post comment.