It seems our sunny island—though recently plagued with a bout of wet weather—will see no end to food trends that are both challenged or renewed. It's barely into the official period of mooncake-savouring and we're now caught up in the wave of new menus and establishments that will please the carnivore in you.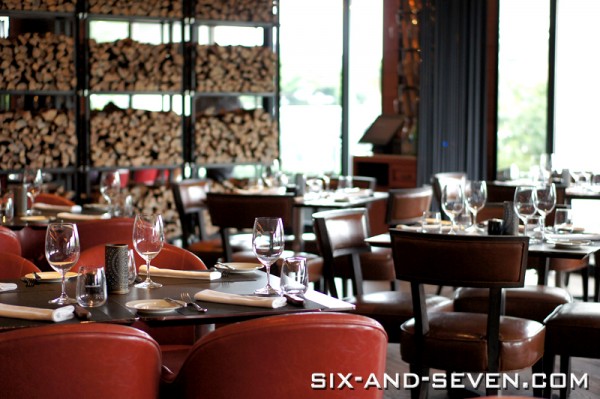 — click to view larger image
From the land of well-dressed individuals, even for a hypermart run—i.e. Hong Kong—comes
Wooloomooloo Steakhouse
. While pronouncing the name of said group admittedly makes one look like they're imitating a fish breathing underwater, their impressive view of the city—over Stamford Road and St Andrew's Cathedral, as well as a perfect spot overlooking Turn 9 of the upcoming
Formula 1
races—makes me want to apply for accommodation in this 'fish tank'.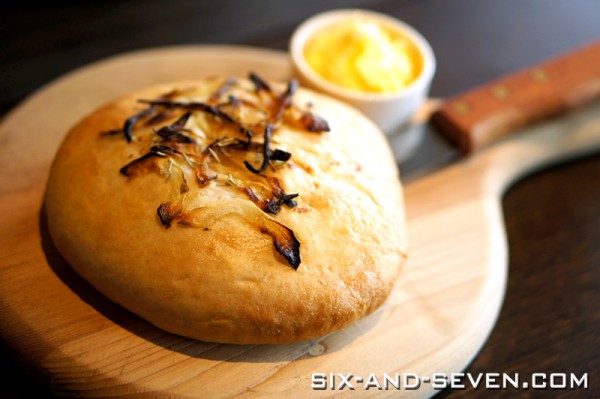 — click to view larger image
As we took in the sights from the leather upholstered seats—part of the imported elegant design, which includes the usage of neat woodpiles, to maintain the group's signature look—a complimentary, freshly baked
Onion focaccia
is served in the middle of our lively chatter, kicking off our meal with a fragrant start.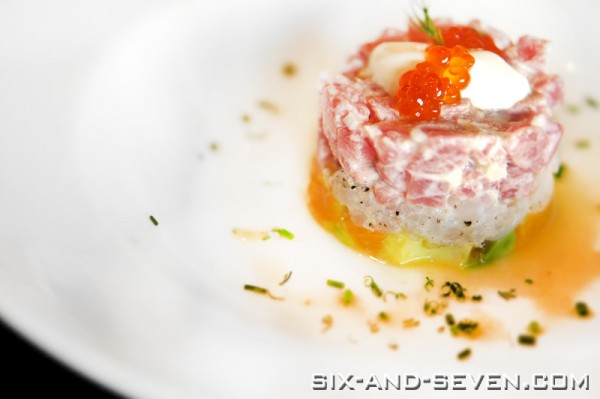 — click to view larger image
Next to arrive on our table was the
Tuna & spanner crab tartare
($29). Unlike the usual fare where solely the freshness of the meat takes centre stage,
Wooloomooloo
has beefed up the dish with orange slices, diced shallots—amongst the usual avocado pairing with seafood. The result is a creamy, smooth dish that has a highly appetizing blend of sweet and citrus, that is rounded off nicely by the touch of crème fraîche and savoury salmon roe.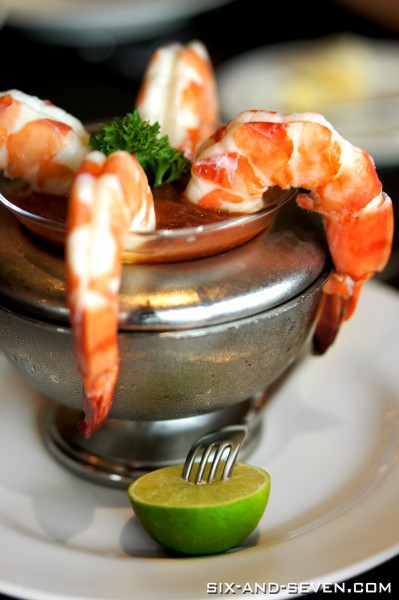 — click to view larger image
Weighing at about 50-55g grams per prawn, it's only easy to see why the
Jumbo prawn cocktail
($29) is becoming a hot favourite at the barely 3-month old restaurant. Be it for corporate events or family gatherings, the succulent, shelled jumbo prawns paired with the homemade cocktail sauce—featuring horseradish and sweet chilli for a delightful lift—is both suitable to share, or as a not so subtle move to establish one's status.
— click to view larger image
As the friendly staff explains to us, steaks at
Wooloomooloo
are seasoned with sea salt and broiled in specially imported
Southbend
broilers to a recommended medium-rare—I simply can't fathom steaks, or people who would prefer them, beyond this mark, but that's a story for another time.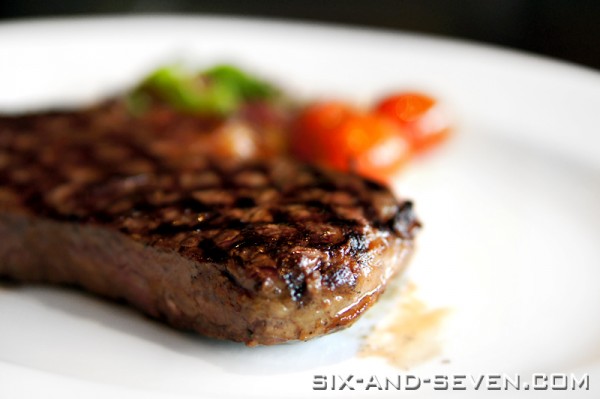 — click to view larger image
We went for two same cuts from different origins—an unconscious test on both the chefs and meats itself. Both the
Australian black angus rib eye
($62/12-ounce) and
USDA prime rib eye
($74/12-ounce) were expertly executed to a beautiful pink of a medium-rare—but I would be lying if I said I didn't make comparisons and pick a 'winner'.
I felt the
USDA
to be more flavourful, and this particular cut happens to be thicker than that of the
Australian,
so it packed more meat with each slice and was a touch more succulent.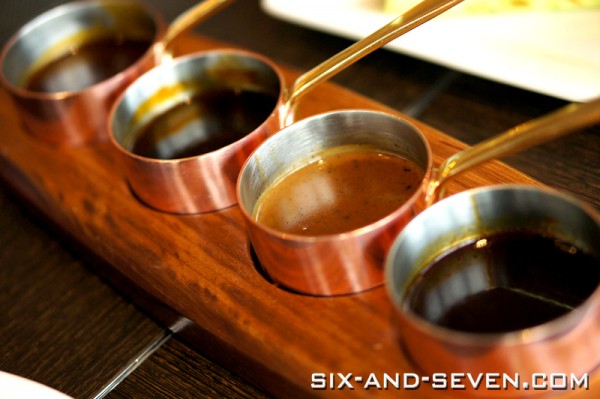 — click to view larger image
Unlike other steakhouses which force you to make a decision on one, and only one, accompanying sauce for your steak—or McDonald's, who would probably start charging for straws and napkins next—
Wooloomoo
offers up their spread of homemade sauces—Red wine Madeira, Au jus, Peppercorn and Mushroom—and gourmet mustards, no 30-cent surcharge.
I've visited too many steak places that try to pass off a reduced, or even watered down, cream of mushroom soup as sauce, but thankfully, this didn't add to it. Cooked with jus, the
Mushroom sauce
is surprisingly full of flavour, with a heady, distinctive mushroom flavour that accentuates the natural taste of the meat.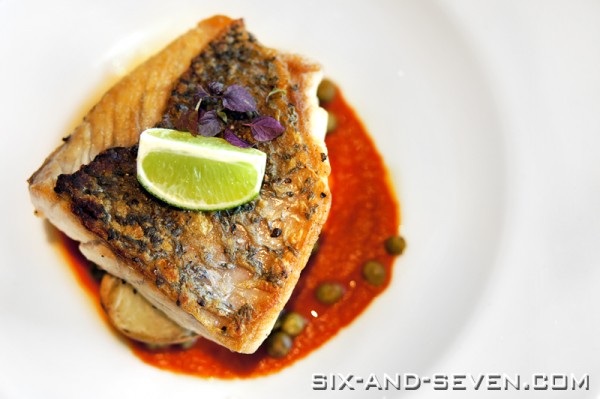 — click to view larger image
Besides just beef, the steakhouse also serves up a decent variety of other meat mains. The
Pan seared barramundi fillet
($52) appears to be a run-off-the-mill, slightly pricey white meat dish, but the extremely robust tomato coulis, with a sprinkling of piquant capers, highlights the fresh, moist fillet exceedingly well.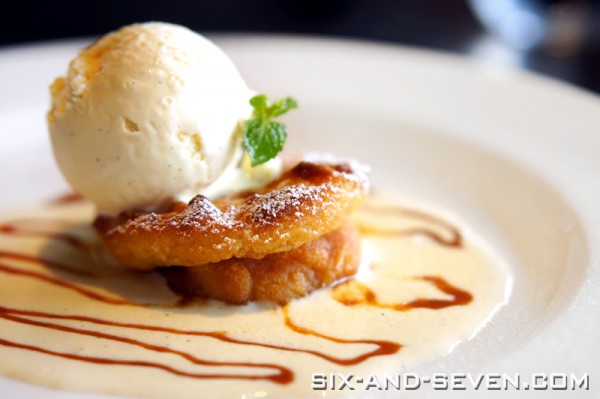 — click to view larger image
Moving onto desserts, those with a sweet tooth will definitely appreciate the
Bread & butter pudding
($16). Usually it is the pudding that acts as a base for the sweet ice cream to shine, but
Wooloomooloo
has switched things around with a rich, classic vanilla gelato to offset the delightfully sweeter bread pudding that seems almost too sinful to have one by yourself.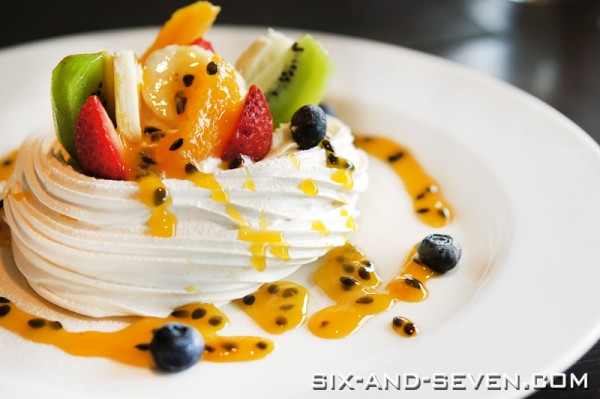 — click to view larger image
The
Pavlova
($18) is definitely a more balanced dessert that will cater to the greater majority of diners. The sweet, crisp meringue shell is delicately teamed with a smooth, light Chantilly cream and fresh fruits, though it is the tartiness of the passionfruit coulis that provided an outstanding contrast to balance the dish.
From encouraging a lively atmosphere of chitchat, no strictly enforced dress codes to providing shawls for ladies who feel cold,
Wooloomoo
plays its cards well to steer away from the easily perceived 'hoity toity' impression that can come with upmarket steakhouses. Look out also for their set lunches that won't break the bank—ranging from $36++ to $42++.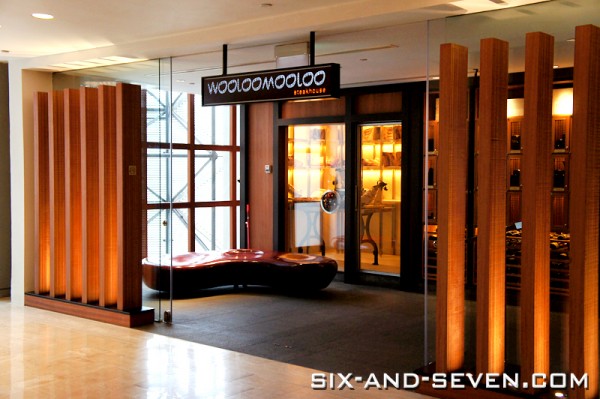 —
Wooloomooloo Steakhouse

Swissotel the Stamford, Level 3
2 Stamford Road, Singapore 178882
Tel:
+65 63380261 |
Website
Opening hours:
Lunch 12pm – 2.30pm
Dinner 6.30pm – 11pm
Click to read original article
Tweet
only our member can post comment.