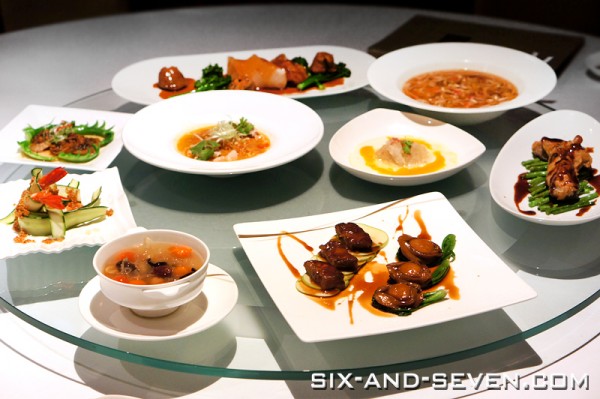 If there is something I will miss when I get older, it will be all the scrumptious dishes that are lost with the changing times, and closing of restaurants. While
Feng Shui Inn
's new
Chef de Cuisine Yip Cheung Shui
hasn't quite yet perfected the technicalities of a time machine, he celebrates his entrance at the restaurant with a menu depicting his culinary journey from Guangzhou to Hong Kong, and ending with some Singapore-inspired dishes.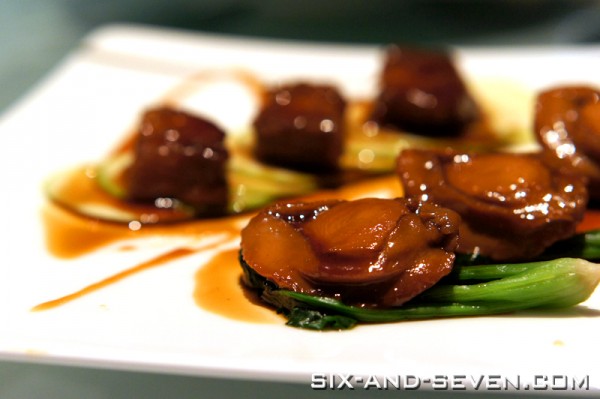 Contrary to belief,
Feng Shui Inn
—situated within
Crockfords Tower
, also home to the Casino—isn't only for the high rollers; the understated elegant restaurant serves up some fine Cantonese cuisine, four private rooms each equipped with TVs, to cater to families and business dining.
Diners may only just have missed
Chef Yip
's
Guangzhou Delicacies
menu (4 – 24 March 2013)—featuring a succulent dish of hand-shredded, traditional
Baked salted 'Kampong' chicken
—but his upcoming elaborate
Hong Kong Masterpieces
九大簋 feast (25 March – 14 April 2013) is definitely something worthy of mention.
I highly recommend opting for the 9-course set menu ($198 per person, min. 2 persons), as just the deftly executed
Braised abalone & foie gras in honey sauce
($168 per serving a la carte)—brilliantly paired with the sweet-tart green apples—or
Poached Kurobuta pork belly
served in a smooth, rich lobster bisque ($98 per serving a la carte) is enough to cause your wallet go into shock.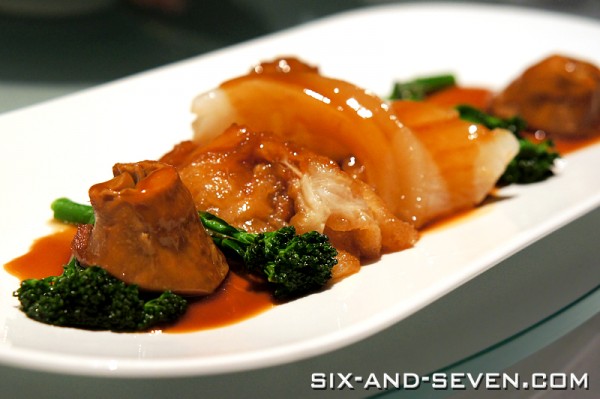 Other highlights include the delightfully crisp
Fried top grade sea cucumber
($68 per person a la carte) that has been stuffed with shrimp roe, and the tender, savoury
Braised pig stomach with assorted fish maw
($68 per person a la carte)—both delicious and chockfull with collagen.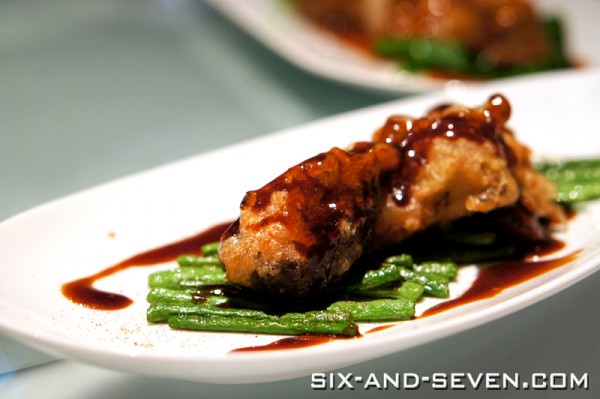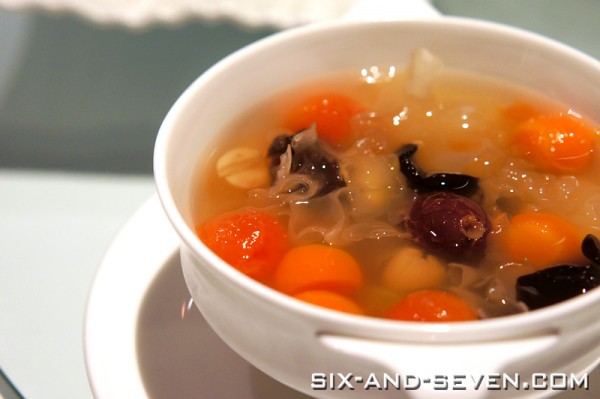 The feast ends off with a chilled
9 Treasures sweet soup
($8.80 per person a la carte), a perfect bowl of sweetness especially for an afternoon in our Singapore climate, though the exquisite
Steamed minced chicken & egg white
topped with imperial bird's nest ($48 per person a la carte) makes for a good alternative.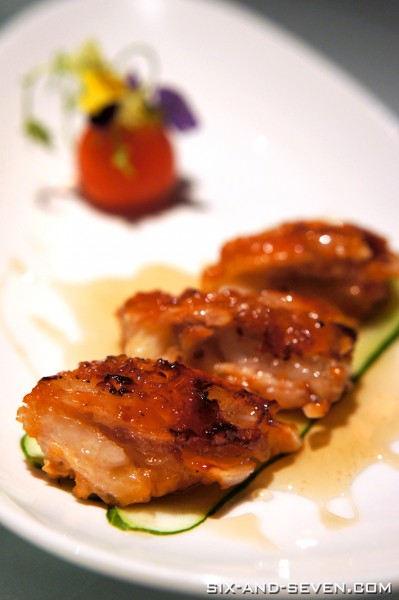 To commemorate the start of his new journey in Singapore,
Chef Yip
has next lined up a nourishing
Singapore-inspired Healthy Creations
(15 April – 5 May 2013), with a 5-course set menu at $118 per person (min 2 persons).
Look forward to items such as the excellently seasoned
Sauteed minced Sri Lankan crab with truffle & barley
($38 per serving a la carte), supposedly to help nourish the skin, and the gratifying
Honey glazed crocodile belly
($48 per serving a la carte)—the crocodiles personally handpicked from the local farm by the chef—that helps clear the lungs.
Chef Yip Cheung Shui
's
Hong Kong Masterpieces
menu runs from 25 March – 14 April 2013, and
Singapore-inspired Healthy Creations
from 15 April – 5 May 2013, and are available for both lunch and dinner.
Note: This was an invited tasting.
Click to read original article
Tweet
only our member can post comment.