I do enjoy my occasional barbeque along East Coast Park, but I always end up smelling like the chicken wing on the pit;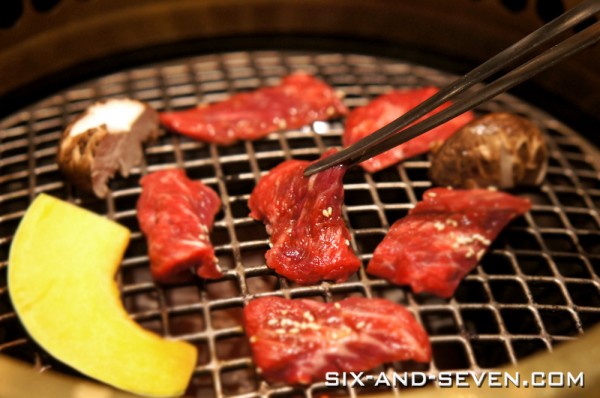 not to mention that with my string of luck, I always get the role of the sweaty chef. With the opening of
Ito Kacho @ Mandarin Gallery
, one is now relieved of these first world problems.
The restaurant prides itself with its premium selection of A4 grade wagyu, and is one of the first few restaurants to chill their meat instead of freeze to give it a more uncompromised flavour. The electric grill found at each table saves you the hassle of starting a fire, and the inbuilt ventilation ensures you don't finish dinner smelling like the beef you just ate.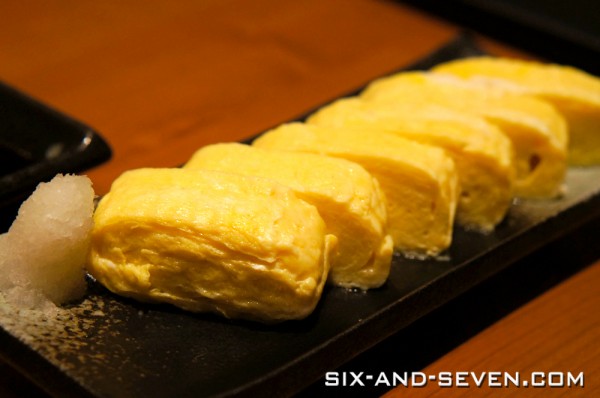 One of
Ito Kacho's
specialties is its
Dashimaki Tamago ($6.80)
. While we are well acquainted with the traditional Japanese
tamagoyaki
, the chef steams the eggs instead to achieve a warm, denser and less sweet variety. The restaurant also serves up some simple Korean starters such as the
Namuru Moriawase ($8.90)
. While they faired average at best, one begs to question how groundbreaking a simple mix of salad can get.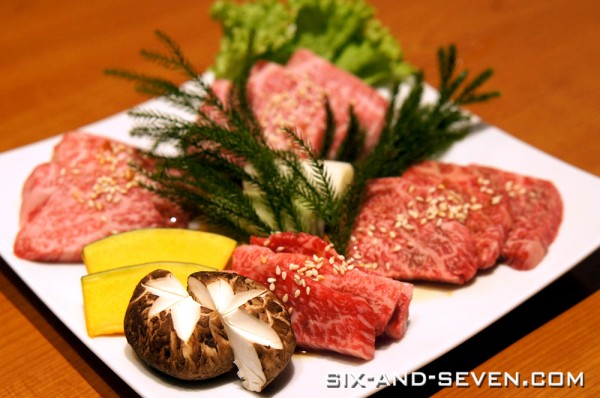 The stars of this show are found in
Ito Kacho's
selection of beef, with the main lead going to the
Wagyu Toku-Jo-Bara (Premium Short Rib; $50 for 80g, $69 for 120g)
. With the highest amount of marbling, meat is almost non-existent. The full burst of fat flavours does get tantalizing at the first bite, but like a risky investment you may find diminishing returns by the fourth. Personally, I would go for the
Wagyu Sasami (Flank Steak; $50 for 80g, $69 for 120g)
that offers more balanced meat to fat ratio. This particular cut suffices on the fat flavours, but also allows you to enjoy the natural sweetness of the wagyu meat.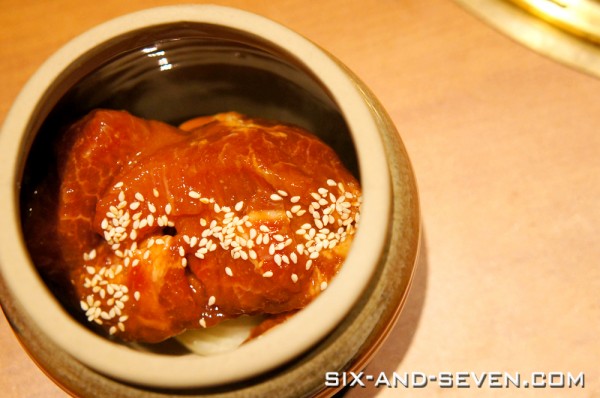 If you have your heart set on a favourite char siew stall in Singapore, you may need to reconsider your choices after trying
Ito Kacho's
Tsubo-Zuke Kurobuta (Pork Collar; $19 for 180g).
Marinated for a good 24 hours, the pork when grilled retains its tenderness and flavour, and the slightly sweet charred edges gives it its char-siew-like resemblance.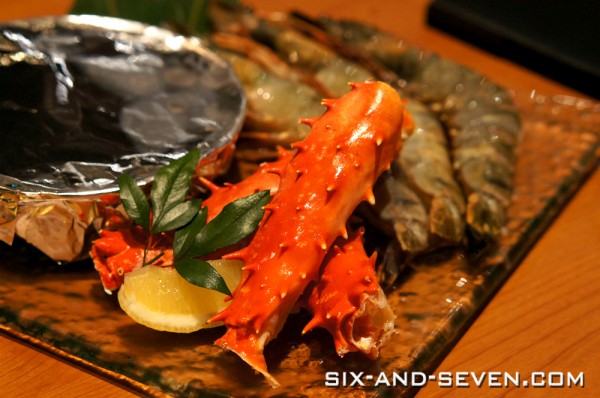 As
Ito Kacho
specializes in premium cut meats, we would suggest not wasting stomach space with the seafood. The steroid-pumped
Oo-Ebi Yaki (Giant Tiger Prawn; $24)
was more pleasing on the eyes than the palate, while the
King Crab-Yaki (King Crab for Grill; $38)
faired much better, albeit not needing the barbeque grill.
With all the fanciful grill equipment in
Ito Kacho
, it is definitely a good substitute for labour-handicapped barbeque enthusiasts such as myself. The selection of beef and pork are certainly not your mediocre wet-market quality. For this barbeque, it would be most advisable you not turn up in a tank top and slippers.
Click to read original article
Tweet
only our member can post comment.